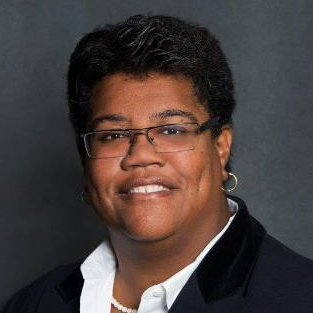 Leslie B. Anderson
Leslie B. Anderson, Esq. serves as 2nd Vice President of the Board of Directors of the Suffolk Community College Foundation. She is currently an Assistant District Attorney and the Deputy Bureau Chief on the Executive Staff of the Suffolk County District Attorney.  Prior to this, Leslie served as Principal Counsel to the Grievance Committee for New York's 10th Judicial District (Nassau and Suffolk Counties) where she investigated attorney misconduct.  Previously, Leslie served as an Assistant District Attorney and Chief of the Gang Investigations and Prosecutions Unit of the Suffolk DA's Office; as Regional Director for the New York State Division of Human Rights; and as a Substitute Teacher at Central Islip High School.  A proud alumna of the State University of New York at Albany and Union University's Albany Law School, Leslie also studied at the University of Edinburgh's Moray House College.  Leslie and her wife, Emma McGrattan, an internationally recognized IT executive and engineer, reside in East Patchogue and actively support many community organizations including the Suffolk Community College Foundation, the American Cancer Society and New York Special Olympics.  The couple participates annually in the Polar Plunge bedecked in vibrant costumes, to raise critical funds in support of the Special Olympics.
"As a prosecutor, I know first-hand how transformative education is in the lives of young people", explained Leslie Anderson. "We established this endowed scholarship to ensure that promising students here in our home county have the support to transform their lives, achieve their dreams and become leaders in our community."
The Anderson/Helms/Holmes Family Memorial Endowed Scholarship
Andrea E. Holmes Anderson and Anna M. Helms Holmes lived lives filled with love, family, faith and community service. They provided models of strong, educated women and were dedicated to equality in their community, love in their families and faith in their God.  Each of these women lived a life marked by genuine concern for others and the idea that "to whom much is given, from him much shall be expected".
A longtime community activist, leading attorney, experienced prosecutor and higher education advocate, Suffolk Community College Foundation Board of Directors Second Vice Chairperson Leslie Anderson, Esq. established this scholarship to celebrate the memories of her grandmother, mother and nephew Michael Hansson, whose life was cut short at a young age by illness. Each of these individuals played an important role in the life of the Anderson/Helms/Holmes family, where education is known as the key to success.