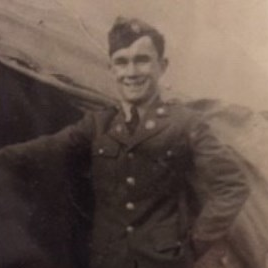 Theresa (Cunningham) Dereme and Robert Dereme and Family
This scholarship was created to memorialize Corporal Michael Francis Cunningham, a volunteer during World War II. Corporal Cunningham was trained in field artillery and became an expert with the rifle. Eventually he volunteered for infantry where he mastered the 2 man machine gun as the lead gunner.  It was during this time period where he was sent to the European theater in the fall of 1944.  He was awarded the Bronze Star for battle on December 10.  On December 16, 1944 as a member of the 106th infantry division (The Golden Lion) after all day battle Michael was separated from his regiment and was seriously, nearly mortally wounded and was taken as a Prisoner of War.  This was during the famous Battle of the Bulge.  Thank God the German doctors were able to save his leg. Once healed he spent the next 5 months in captivity.
Corporal Michael F Cunningham received the Purple Heart Medal, the Prisoner of War Medal and the Bronze Star.  He returned home to lead a very respectable life with a brilliant career in NYC Sanitation as a Borough Chief, a Commander of the American Legion, A Melvin Jones Fellow of the Lions Club and a Chaplain for the POW group at the VA Hospital in Brooklyn.
About the Donor: Theresa Dereme is the Assistant Dean of Student Services and Associate Professor on the Eastern Campus.  She credits her success in life and dedication to service to the extraordinary example of her father Michael F. Cunningham. In her parents' later years they moved from Brooklyn to Long Island where they lived happily with Theresa and family for 16 years.   Fortunately Michael lived to be 93 and loved calling his daughter the "Dean".